Sarah:
Bootcamp Participant
I was so scared about joining the bootcamp because I had never walked in a gym before, let alone start a bootcamp! but I just did it and its the best thing I've done for myself in a very long time. I was put at ease as soon as I walked in the gym. Nathan and Shiobhan are so friendly and make you feel so welcome and I will add that since completing the bootcamp, I'm now confident to walk in the gym alone, I feel great and ive lost nearly 2 stone since I first started. I would definitely recommend anyone that's thinking about doing it to just do it!
Tim:
Gym Member
Such a friendly couple and super helpful. I'm still yet to build my confidence but they have made the experience so much more easier
Katrina.R from Black Lake Lodge:
Care Home Recommendation
"Nathan has developed an excellent rapport with the residents who look forward to his visits. He has consistently delivered an interesting and varied programme and worked with every resident to improve their mobility and have fun doing so. I admire the empathy he has with everyone and that he is able to not only deliver an excellent group 'Movement to Music' session, but also one to one exercises tailored to the abilities of the individual".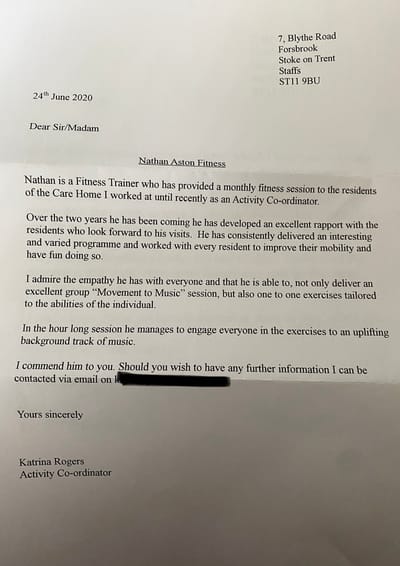 Zara:
Gym Member
Very friendly couple, great atmosphere to be in and always available to offer advice and answer any questions. Highly recommended.
Jean:
Gym & Fit Slims Club Member
I started the gym at the Whitfield Valley Centre to increase my physical activity level and Nathan and Shiobhan made me feel at ease and very welcome from the beginning. Super friendly couple that make fitness fun yet maintain a professional approach at all times.
Kelly Marie:
Gym Member
Very friendly! I love going when I'm off work. The owners are brilliant.
Sam T:
Gym Member
Friendly and welcoming, really nice place. I feel comfortable using this local gym
Cynthia:
Gym Member
Very warm and friendly atmosphere at the gym. Very welcoming and very helpful in achieving your goals. Absolutely lovely couple
Imogen:
Gym Member
Always so friendly, a lovely environment and help is always there if needed. I wouldn't go to another gym.
Eliza:
Gym Member and PT Client
Always encouraging and friendly to every person!
Ewa:
PT Client
I cant praise this place enough! I started my journey with you to get fitter, little did I know I will not only be looked after on a physical level but mentally too. Every week I learn something new about myself mentally, getting the much needed clarity and I'm now so much stronger. I'm so happy that I'm in the right place getting support from the amazing Shiobhan and Nathan and being surrounded by such friendly members. Every time I go to do my workout I feel positive and smiling through sweat! Thank you for creating such a wonderful space! My kids love it too x
Charlene:
Gym Member
Great couple! They have both welcomed me into the gym and nothing is too much trouble for them. The best part for me personally is how they interact with the customers! Just to hear someone say well done for your workout makes me feel encouraged!
Claire:
Gym Member
Amazing place, really lovely and helpful service.
Louise:
Care Home Affiliation
Nathan is great with the residents in the care home. We would highly recommend Aston Health & Fitness
Michelle:
Fit Slims Club Member
Very friendly couple. They me feel comfortable in their ability and make sure I do things correctly in the gym so I don't hurt myself. Fantastic ladies circuit class!!